Impress with a great NOW screen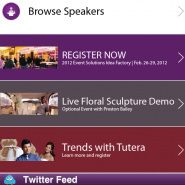 Your NOW view offers you the ability to customize your conference app home screen and user experience by adding beautiful graphics that match your event branding. On mobile devices, many different resolutions as well as portrait and landscape mode have to be supported. In EventPilot, each background area that displays a NOW banner graphic can have a color code assigned so the image nicely blends on different dimensions and screen orientations.


Tip: Avoid gradients in the image background color.
The Original Image

Displayed in Portrait Mode

Displayed in Landscape Mode