EventPilot app provides new resource to thousands of American College of Cardiology ACC.12 attendees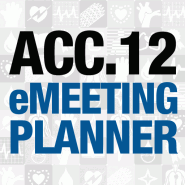 With a commitment to education and networking, ACC is dedicated to increasing accessibility of the latest Cardiology research to its 40,000 members by using the professional conference app EventPilot


Santa Rosa, Calif. – March 23, 2012 ATIV Software today released the ACC.12 eMeeting Planner app, built on the dynamic EventPilot conference app platform, for Cardiology professionals attending ACC.12 in Chicago. EventPilot is designed to provide efficient and offline access to the thousands of medical abstracts, ensuring Wi-Fi independence for organizers and attendees to instantly review the latest cardiology research. Making all conference materials available for attendees on their personal mobile devices has simplified the accessibility and navigation of medical abstracts, allowing for greater depth of learning at this annual gathering of Cardiology professionals.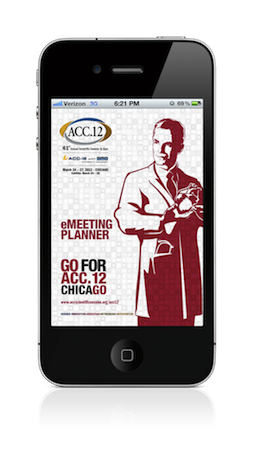 "ACC's 61st Annual Scientific Session & Expo continues our organization's commitment to education and is a great step towards becoming a paperless event." said Cathy Riedel, Director of the Project Management Office for ACC. "We are excited to provide our attendees the ability to review conference materials, research abstracts and get up to date conference changes in just seconds on their phones and mobile devices."
Native EventPilot conference apps provide convenient access to all medical meeting related information from a personal schedule to session materials and exhibitor booth locations. Conference attendees have full offline and online access to pertinent event information and contacts before, during and after the event so that the learning and engagement continues well beyond the end of the meeting.
About EventPilot
The EventPilot mobile conference app features include:
Native Mobile Event App with True Offline Functionality
Native Android conference app, iPhone conference app and iPad conference app to ensure best performance, network independence, and device specific navigation users expect.
Instant access to Thousands of Medical Abstracts
Attendees can easily search and filter all scientific abstracts directly on their device. Abstracts are displayed in context as part of the session detail information and provide information as needed during the event.
Sharing and Networking
The Facebook and LinkedIn integration enables attendees to share interesting sessions with their peers and extend the reach for presenters and event organizers. Unique presentation slide tweeting to share key insights with others and integration of Twitter technology to allow easy networking.
Real-Time Updates and Reminders
Attendees receive just-in-time notifications about their scheduled sessions, program changes, and Twitter updates without ever leaving the first screen.
Animated Maps
Animations show attendees where session rooms or exhibitors are located at the venue. Attendees can find their way at any time since all maps are included directly in the app and do not require Internet access.
"EventPilot medical meeting apps expand the event experience from merely accessing meeting programs to managing the event experience, engaging with other attendees and increasing peer-to-peer learning," says Silke Fleischer, CEO and co-founder of ATIV Software. "Cardiology professionals at ACC's Annual Scientific Session & Expo benefit from powerful time saving features from robust offline access to searchable abstracts with the EventPilot app."
Availability
The free iPhone and iPad conference app is available now in the App Store. The free Android event app is available in the Android market. A web version for BlackBerry and other web- enabled devices is available at http://ativ.me/acc.
About American College of Cardiology (ACC)
The American College of Cardiology is transforming cardiovascular care and improving heart health through continuous quality improvement, patient-centered care, payment innovation and professionalism. The College is a 40,000-member nonprofit medical society comprised of physicians, surgeons, nurses, physician assistants, pharmacists and practice managers, and bestows credentials upon cardiovascular specialists who meet its stringent qualifications. The College is a leader in the formulation of health policy, standards and guidelines, and is a staunch supporter of cardiovascular research. The ACC provides professional education and operates national registries for the measurement and improvement of quality care. More information about the association is available online at http://www.cardiosource.org/ACC.
About ATIV Software
ATIV Software offers EventPilot, the customizable mobile conference app for corporate event and association meeting planners. EventPilot is available as a native app for the iPhone, iPod Touch, iPad, and Android as well as a mobile web version for all other web-enabled devices including BlackBerry. For more information, visit http://www.ativsoftware.com.
# # #