EventPilot native mobile app enables technology conference for meeting professionals to go paperless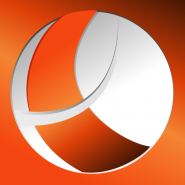 The Meetings Technology Expo goes green by offering event planners the powerful EventPilot app for all session presentations, note taking, and conference schedule
Santa Rosa, Calif. – May 21, 2012 ATIV Software released the MTE conference program in the free EventPilot Express app to enable a paperless Meetings Technology Expo held today in Washington, DC. The unique native meeting app overcomes the last frontier for event professionals to reduce paper waste: the inclusion of presentation handouts with note taking capability on individual slides.
"We produce the leading technology expo for event professionals," said Paul Paone, Founder and Director of Meetings Technology Expo. "EventPilot is the perfect cutting-edge tool to quickly offer all session materials in a complete mobile solution."
EventPilot is the perfect cutting-edge tool to quickly offer all session materials in a complete mobile solution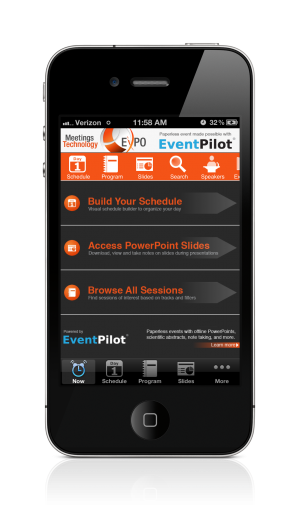 In addition to offering an intuitive schedule builder and professional mobile conference app, EventPilot is specifically developed to eliminate or reduce paper use at events without compromising the attendee experience. PowerPoint presentation slides are displayed in context of sessions or speakers. Attendees easily view slides offline in EventPilot's uniquely designed presentation viewer that supports slide-based note taking and slide bookmarking. All notes and slide images are exported to a comprehensive email report of all key-learnings.
"EventPilot is the most cutting edge app to deliver event or training materials on mobile devices," said Silke Fleischer, CEO and co-founder of ATIV Software.
"Our conference and event apps are created to enhance learning so attendees can fully focus on the presenter and take notes in context."
Features of the EventPilot mobile conference app also include:
Paperless Events with Unique PowerPoint Slide Viewer with Note Taking
Integrate all session PowerPoint presentations to build a mobile learning tool while reducing or eliminating paper waste. Attendees take notes directly on slides within the application.
Native Mobile Event App with True Offline Functionality
Native iPhone, iPad, and Android conference app ensures best performance, network independence, and device specific navigation users expect.
Powerful Personal Scheduling Features
Enable attendees to easily fill their day by adding sessions to their visual schedule, see open time slots, or add personal meetings with exhibitors.
Availability
The free iPhone and iPad conference apps are available now in the App Store by searching for "EventPilot". The free Android event app is available in the Android market and at the Amazon App Store by searching for "EventPilot".  An online version for web- enabled devices is available.
EventPilot Express Code: MTE
About Meetings Technology Expo
The MTE conference provides education across a broad range of technology topics and is geared for the corporate, association, independent and trade show planner. The CMP-accredited sessions cover everything from registration systems to meetings spend consolidation tools. For more information, visit http://www.meetingstechexpo.com.
About ATIV Software
ATIV Software offers EventPilot, the customizable mobile conference app for training, corporate event and association meeting planners. EventPilot is available as a native app for the iPhone, iPod Touch, iPad, and Android as well as a mobile web version for all other web-enabled devices including Windows Phone 7. For more information and to check out the many other features, visit http://www.ativsoftware.com.
# # #