With EventPilot, you have a lot of flexibility to add event related content from housing information to event hours to bus schedules or emergency contacts. Adding this content as HTML directly within your native event app offers great benefits: offline viewing searchable – included in Global Search accessible either via banner on NOW screen or navigation tab mobile optimized (with the...
Read More
New Video Tutorial: What content goes where in the app The EventPilot conference app is a highly advanced mobile event app with many fields you can populate and customize. In this tutorial, we cover the different core detail views and which data field appears where in the view. Data items can either be added and edited directly via our EventPilot CMS or imported as CSV files or dynamic pages....
Read More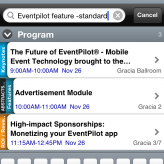 New Video Tutorial: Tips on Using the Search The EventPilot conference app offers a very powerful search and this tutorial is designed to make the most out of this search functionality. Because the app is specifically designed for large medical and scientific meetings with thousands of sessions and research abstracts, it's critical that the search works offline and very, very fast. Multiple...
Read More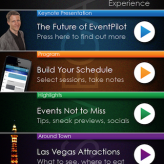 New Video Tutorial: EventPilot Imagery Explained We are starting a series of video tutorials to help you make the most of your EventPilot implementation and create the best conference app for your attendees. This first tutorial focuses on imagery and branded graphics. Keep checking back on our blog to see more of these. We are covering: Static images – these cannot be changed once you...
Read More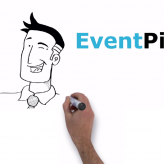 We have just released a new video to showcase EventPilot's benefits and features for conference and meeting planners. Enjoy, share, and let us know what you...
Read More

EventPilot is in the next round for the EyeforTravel's Mobile Innovation in Travel Awards 2013 and needs your vote to win. The online voting will close on Tuesday March 5th at 5pm PST. The votes will then count towards 50% of the decision to narrow down the 2 most successful entrants in each category. Vote for ATIV Vote Now for ATIV Software in the category "Best Mobile Tech...
Read More