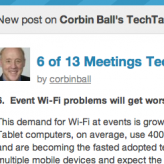 Corbin Ball's 6th prediction for 2013 confirms a trend we have seen as well: Event Wi-Fi problems will get worse before getting better. With attendees bringing multiple devices and sharing/consuming information throughout the conference, existing bandwidth often crawls to a halt, which causes a lot of attendee frustration. While Wi-Fi is required for social media use or accessing web pages,...
Read More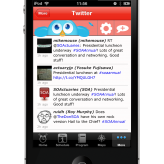 Social media has become a part of almost every major meeting, conference and event. At a minimum, event planners are using Twitter, Facebook, or sites such as LinkedIn, MeetUp and Google+, as virtual pre and post event gathering places for attendees, sponsors and even non-attendees who just want to be "in the know." We had the chance to speak with entrepreneur and consultant Tiffani Murray,...
Read More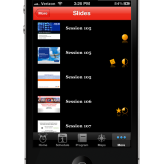 Reducing paper at events has never been easier with the integrated offline PowerPoint viewer with slide-based note taking and unique slide sharing on Twitter One of the biggest advantages of EventPilot is the ability to integrate session materials such as PowerPoint slides offline. Here is some more info to answer any questions you may have around this functionality: I am reluctant to...
Read More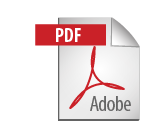 Including links to PDFs in your mobile conference app is a great way to give access to additional information. EventPilot offers you unlimited flexibility for linking to PDFs from within the app. For example, you could include product fact sheets for your exhibitors, brochures for sponsors, or non-PowerPoint session materials in the session description. However, the user experience is still...
Read More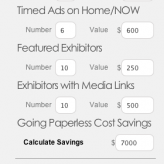 EventPilot offers a large variety of sponsorship options that range from rotating ads to offering exhibitors the ability to link to videos or special offer pages. To make estimating the potential revenue generation from your conference app easier, you can now calculate the ROI of your app including your cost savings from going paperless. Try the EventPilot Conference App Revenue Calculator...
Read More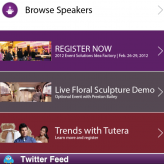 Your NOW view offers you the ability to customize your conference app home screen and user experience by adding beautiful graphics that match your event branding. On mobile devices, many different resolutions as well as portrait and landscape mode have to be supported. In EventPilot, each background area that displays a NOW banner graphic can have a color code assigned so the image nicely blends...
Read More