The Ideal Event App for Training or Sales and Marketing Meetings
Go green with your custom corporate events app
The EventPilot conference app for iPad, iPhone, or Android is the ideal mobile solution to enhance corporate events such as internal sales and marketing meetings, training events, or executive leadership workshops. All content is available offline so you can offer sustainable paperless events.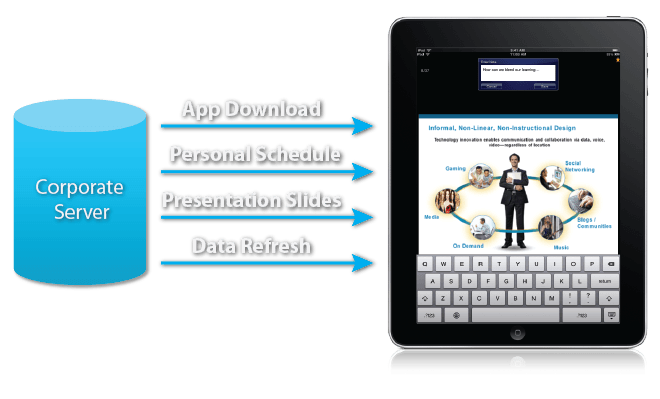 Meeting App Features Specific for Corporate Events
Secure Internal Distribution to Employees Only
Limit event app access by distributing the Android and iOS conference apps directly via your corporate intranet. Employees simply download your corporate event app over the air by navigating to your meeting page on the corporate intranet. (Enrollment in Apple iOS Enterprise Development Program required)
OAuth Integration
Bring security of your corporate event app to the next level and allow employees to login using their existing corporate login. The OAuth authentication Add-On Module provides an extra layer of protection and gives you control over who can access the event program.
PPT Presentation Slides with Note Taking
Turn your corporate event app into a valuable performance support tool. Provide offline access to session or training courses using the unique PowerPoint presentation slide viewer. Users can even take notes directly on the event app for later reference.
Internal Data Refresh
Update your sales and marketing meeting app via smart data downloads. For increased security, data files can be stored on your own server.
Enterprise Multi-Event App
Build one single corporate event app that contains all your meetings with the EventPilot Enterprise edition. The multi-event app offers a cost effective option for your entire organization.
Mandatory Conference Schedule Download
A predetermined meeting schedule can be created and downloaded to devices so attendees receive a complete mandatory program of events based on their employee login.
Learn more about EventPilot mobile app features »
Contact us today to schedule a demo before your next corporate event