Success Stories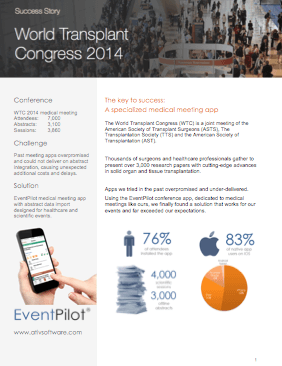 Success with Specialized Medical Meeting App
After trying out other generic meeting apps, the World Transplant Congress found the right solution with the EventPilot medical conference app.
Attendees: 7,000
Abstracts: 3,100
Sessions: 3,860

Problem
Past apps could not deliver on scientific abstract integration.
Solution
EventPilot specialized conference app for medical meetings.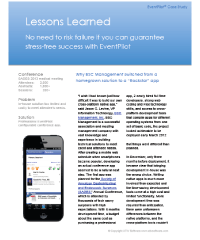 From In-House Solution to Professional Event App
View the case study and find out why BSC Management switched from a homegrown solution to a "Rockstar" conference app for the SAGES 2013 medical meeting.
Attendees: 2,000
Abstracts: 1,000+
Sessions: 350+

Problem
In-house solution too limited and costly to meet attendee's needs.
Solution
Professional EventPilot configurable conference app.
Client and Conference App User Testimonials
Consistent feedback we received was,
BEST. MEETING. APP. EVER.
Jason Levine, VP, Information Technology, BSC Management Inc.
This is a must have for Annual Sessions, very easy to use and find the information I need very quickly.
AAPD Conference Attendee
Best event app I have ever used.
HRTech Conference Attendee
Awesome! Really makes conference easy to navigate and you can set up your own personal schedule. Most of all no paper!
SWE Explore Attendee, Annual Conference for Women Engineers
ATIV is the best.
Our attendees commented in the 12 years of this conference, this mobile conference app has been our best improvement!
Caitlin Mariano, Meeting Coordinator, National Association of Professional Organizers (NAPO)
The EventPilot app made the Convention program easy to navigate, creating a great attendee experience.
Nathalie Rothert, Director of Meetings, Association for Psychological Science (APS)
Super 'must go show' and truly great 'must have app' to save time and be productive!
NWCDC Attendee, National Workers' Compensation and Disability Conference
The app is like having a searchable mobile conference program guide...only better!
ASTD Events Attendee, American Society for Training & Development
Ready to upgrade your app?
---
Want to learn more?
If you are interested in your own professional conference app for your next event, please contact us using the form below.