Show Attendees Where They Are
With EventPilot, you can help your attendees orientate themselves within large exhibitions or vast poster halls. When indoor positioning is set up, the pulsing blue dot reveals the user's location directly on your specific floor plan.
Geo-Mapped to Your Floor Plans
Simplify Poster Hall Orientation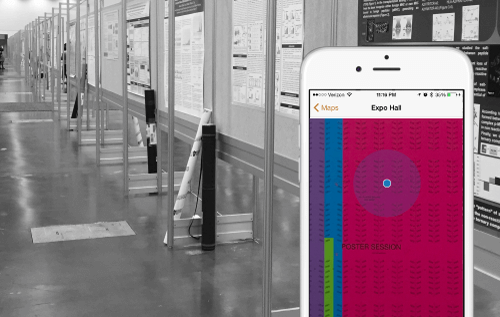 Custom Indoor Positioning Setup for Large Medical Meetings & Scientific Events
The EventPilot meeting app is designed for scientific and healthcare associations that plan large annual meetings. Your custom poster hall can be geo-mapped so attendees easily know where they are.
Indoor positioning for poster halls
Geo-mapped to your specific venue
iBeacon placement service
Combine Indoor Positioning
with Context Aware Push Notifications
Indoor positioning is set up with iBeacon devices that transmit a low energy Bluetooth signal. The mobile conference app contains your geo-mapped floor plans and scans for the placed iBeacon devices. Strategically use some of your Indoor Positioning beacons to push location aware notifications into your meeting app. Use iBeacons to generate revenue when attendees are in proximity of your key sponsor's booth. Or alert attendees when they are nearby one of the top breakthrough research posters.
Learn more about location awareness
Interested in learning more about indoor positioning?
Simply contact us using the form below and we'll get in touch with you with more details about indoor positioning for your meetings, expos, or congresses.