Conference App Features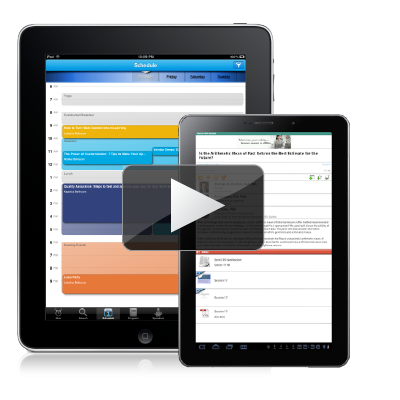 Give attendees the app they want:

Intuitive. Fast. Robust. Offline.
Instantly access the full conference program. Take notes on PowerPoint presentation slides. Fill open time slots with sessions. Receive reminders of upcoming sessions. Find rooms and exhibitor booths on animated maps. Bookmark great speakers. Share digital business cards.
All without Internet.
Schedule a Demo Today
The Conference App that is Built for Attendees
Why do some of the largest medical and scientific associations choose EventPilot for their annual events?
Because the app works, even if Wi-Fi doesn't.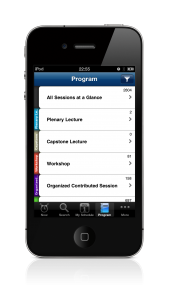 Offline Access
EventPilot is a true native application for iPhone, iPad, and Android so that your attendees can take advantage of your interactive program at any time - during the flight to your event or at the conference where Wi-Fi may be limited, over-burdened or unavailable.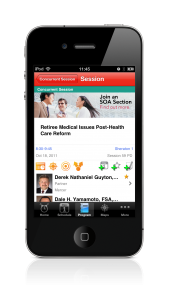 Rich Content
The program is only as good as the information it contains. In addition to basic session information, EventPilot allows you to include speaker photos and bios, exhibitor contact info, media links, organizer alerts, web links to videos, polls, and more.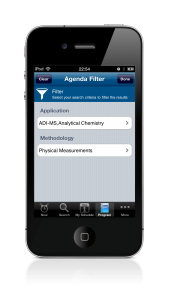 Intuitive Design
EventPilot is designed to let attendees easily browse through thousands of sessions and offer filter options by session tracks, day, keywords, and subsessions. The interface is expertly designed for maximum usability and effective navigation.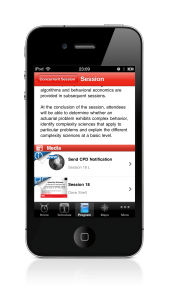 Paperless Events
Integrate session materials such PowerPoint presentations or medical and scientific abstracts directly into the app. The content is accessible offline and displayed in-context of the session detail view. Calculate your
printing and environmental cost savings »
PPT Slide Notes
Include offline PowerPoint presentations so attendees can follow along with the presentation and take notes on slides, bookmark key content, and even share important slides on Twitter or via Email. Learn more about the
PowerPoint slide viewer »
Visual Schedule
The personal schedule builder gives attendees the most efficient way to fill their schedule and make the most out of your event. Filter by category, day, time, keywords, bookmarked, etc. Synchronize schedules with your registration system.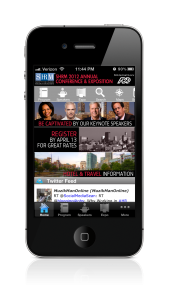 Impactful Branding
EventPilot offers unmatched event branding options and includes the most innovative Home screen approach in the industry. Dynamically display banner messages, use a dashboard approach, or show sponsor ads during premium time slots.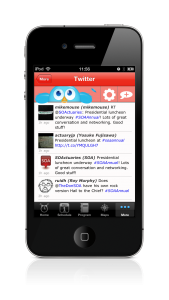 Social Media
EventPilot native conference apps include a Twitter client to tweet from the event app directly with the correct hash tag. Additional social media options include Facebook and Twitter sharing as well as custom tabs to your organization's social media sites.
Powerful Features to Make Your Life Easier
Accomplish more in less time. Our team makes your app development and publishing process easy while you can give your sponsors new attractive marketing opportunities.
Revenue Streams
Generate new revenue through a variety of sponsorship options ranging from rotating ads to special sponsor listings with web and media links.
Calculate your revenue potential »
Update Any Time
Easily make changes and corrections on the fly via the EventPilot backend. The conference app is smartly built so attendees can continue using the app while data updates are downloaded.
Data Integration
In addition to effortlessly editing content via the backend, EventPilot offers direct database integration so you can synchronize your entire event program with the app in seconds.
All Platforms
The native app is available for iPhone, iPad, iPod Touch, Android phones and tablets, and Amazon Kindle Fire. A Web App is included with each implementation at no extra charge.
EventPilot Feature List
Impress Attendees
Native iPhone AND iPad
Native Android AND Tablet
Native offline access
Web version for all other devices
Cross device and OS schedule sync
Integrated online planner*
Unmatched high performance
Media rich experience
Intuitive graphical interface
Localized UI EN/DE/FR/SP/PT
Include All Content
Tracks, sessions, subsessions
Workshops, social events
Access by day, track, timeblock
General event info
Speakers with detail, session list
Session & Exhibitor meta tags
Offline animated venue maps
Global search
Attendee list*
Local information links
Provide Value
Personal schedule builder
Scheduled event reminder
Upcoming event list
Filters based on event metatags
Sessions near me display
Session, speaker, exhibitor notes
Slide-based note taking & stars*
Session, speaker, exhibitor stars
Automated trip report email
Automatic time zone correction
Generate Revenue*
Timed ads on NOW screen
Rotating ads in session view*
Media links for exhibitors*
Exhibitors linked to sessions
Featured exhibitor listing
Sponsor included in imagery
24/7 ad editing*
Manage Data Quickly
Database integration
24/7 Admin access
Autonomous data updates
Smart update downloads
Registration schedule synchronization*
CME flagging and tracking*
Mandatory schedule download*
Communicate/Network
Attendee Messaging*
Session commenting
Alert messages on NOW screen
Full Twitter client
Facebook & Twitter sharing
Contact sharing via QR
Speaker & Exhibitor email
Moderated Q&A*
Customize Your App
Branded imagery
Dynamic NOW screen
Tab order and naming
Custom tabs to additional info
Event color & session tracks
Features via Add-Ons*
Internal distribution option
Password protection*
* Available as Add-On Modules
Features may vary on different platforms.
EventPilot event app for Healthcare Events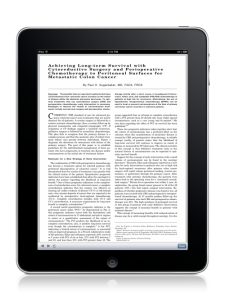 Turn your complex schedules with thousands of sessions, abstracts, and posters into an interactive mobile app with offline access.
Learn more »
EventPilot for Business Meetings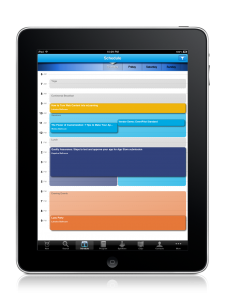 Save your sales and marketing teams valuable time and push mandatory personal daily schedules based on user login.
Learn more »
EventPilot for Training & eLearning
Save your printing costs and offer attendees an interactive way to access handouts, take notes, and network with each other.
Learn more »