Feature Tour & Video
Increase Revenue via Sponsorships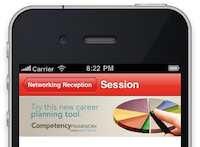 EventPilot offers a wide variety of sponsorship opportunities throughout the app. Options range from startup logo display, to randomized ad display in session descriptions and special sponsor listings with web and media links.
Provide Instant Access even Offline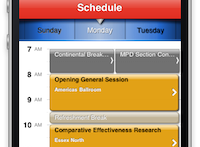 EventPilot is a designed as a true native application for iPhone, iPad, and Android so that your attendees can take advantage of your interactive program at any time - during the flight to your event or at the conference where WiFi is limited, over burdened or unavailable.
Enhance Internal Meetings with an Event App

Provide a mobile app for sales and marketing meetings, training events, or executive leadership workshops with limited internal only access to app download and personal schedules automatically filled with mandatory sessions.
Go paperless and Offer Rich Media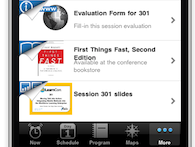 Create a media rich experience by easily including session presentations, abstracts, PDFs, evaluation links, live polls, weblinks, videos, Amazon book links and more. Save on expensive printing, shipping, and distribution costs.
Extend the Conversation via Social Media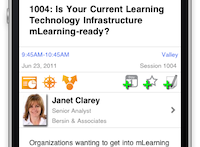 EventPilot keeps attendees up to date and enhances the buzz about your event using the integrated social media and network options. In addition to displaying the current Twitter stream, the native apps enable users to tweet with the correct event hash tag.
Includes slide tweeting and session sharing via Facebook or LinkedIn.
Powerful Customization and Communication Options
EventPilot native apps are highly customizable so your app is built with your branding and you can provide your attendees with the latest information without them ever having to leave the home screen. Display timed ads and messages, an app dashboard, alerts, session reminders, and the latest tweet messages.
Customization Options Include
App icon and name
Launch screen
Sponsor screen
Top banner branding
Tabbed features
Tab order
Add-on Modules: Additional custom tabs pointing to local information, your web/facebook pages, session recordings, etc.