Exceed your revenue goals using the EventPilot conference app's unmatched variety of sponsorship opportunities and ad placements
Estimate your potential revenue
with the event app calculator
.
In addition to tremendous cost savings from moving the print program, presentations, and updates into your EventPilot conference app, you can realize new and exciting revenue streams:
Easily Include Sponsor Ads in the Event App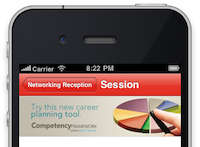 Display and update sponsor ads above session descriptions in the event app. Ads are fully interactive and conference attendees can explore the sponsor website without leaving the mobile app. Sponsors can display ads in the conference app to their target audience before, during, and long after the event.
Value $500-$1,000 each
Show App Sponsor Logo at Event App Startup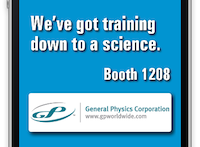 Ensure your main sponsors are being seen and offer an Event App Sponsorship opportunity where one or more sponsors are displayed when the mobile app starts up. The sponsor ad image smoothly fades over your event launch image keeping your event color to continuously match your branding.
Value $10,000 +
Display Timed Ads on the Home Screen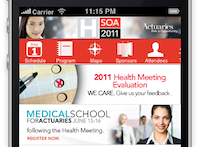 Keep attendees updated and provide additional value for your sponsors via ads that display on the conference app Home screen of the application for a specific period of time. Ads could include event registration discounts, purchasing session recordings, membership registration, or sponsor ads.
Value $500+
Give Sponsors a Special Preview and Links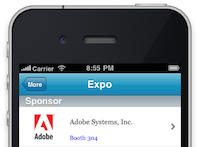 Help sponsors stand out in your event app by displaying them in a separate category above exhibitors. Create different sponsorship categories and choose their display order. Create paperless events and conferences, and provide exhibitors with the option to include additional links to web pages, YouTube videos, PDF brochures, and more.
Value - part of sponsorship package / Enhanced exhibitor listing $500+
Values listed are suggestions based on what some of our clients have charged their sponsors.
Event App Revenue Calculator
Event App Sponsor

Number
Value
$

Rotating Sponsor Ads

Number
Value
$

Timed Ads on Home/NOW

Number
Value
$

Featured Exhibitors

Number
Value
$

Exhibitors with Media Links

Number
Value
$

Sponsor Push Notification

Number
Value
$

Gamification Exhibitors

Number
Value
$
Calculate Savings
$
$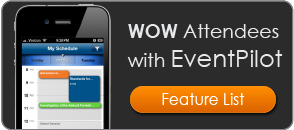 Ready to try EventPilot?
Contact us to schedule a demo or receive more information about the EventPilot conference app.
Schedule a Demo