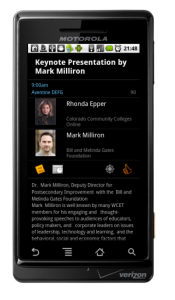 Instant Offline Access
Developed as a true native app, EventPilot ships with your critical conference information and branding so you don't have to worry about limited bandwidth and attendees can prep their schedule inflight to your event. If internet access is available, content updates are downloaded in the background, keeping your conference app useable and performing well at all times. Find out about the offline PowerPoint slide viewer in the app »
Offline Contact Sharing
Attendees can easily share their contact information in online and offline situations, creating further independence from overburdened or slow networks. EventPilot includes contact sharing via QR codes without internet required - this makes EventPilot the most robust conference app available.
With the app, our participants had access to event information before, during, and after the event despite having limited to no WiFi at the venue. We were able to control WiFi cost and reduced our printing to only around 100 flyers. Thanks to EventPilot's offline capability, we saved more than $40,000!
Medtronic, Inc. | Diabetes
Content Included
Schedule
Session Descriptions
Speaker list and description
Exhibitor list and descriptions
Branded event images
Venue maps and locations
Optional: Scientific Abstracts
Content Downloaded
Data updates
Speaker images
Exhibitor logos
PowerPoint presentation slides
Twitter feed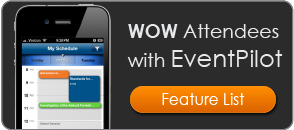 Want to learn more?
Contact us to request more info, get our questions answered, or schedule a free online demo.
Request Contact