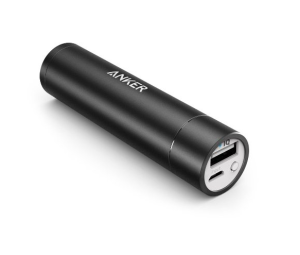 You have probably already read the recent industry research on what attendees want most at your events. #2 of the top three needs is the ability to charge mobile devices. Phone and tablet batteries are quickly running out of juice when keeping screens running for note taking, trying to connect to weak Wi-Fi signals, uploading photos and videos, etc.
For very large meetings, lockable charging stations with 20+ slots may be the ideal solution. For smaller meetings however, these stations may not be an affordable solution as they may cost thousands of dollars for each station at each event. And who wants to truly leave their phone behind?
I just had a conversation with the executive director of a medical association and loved her idea to simply provide portable chargers to attendees. Attendees check them out and return them later – all she is asking for is their contact information.
Portable battery chargers could be a great solution for your event and offer a variety of benefits for your meeting:
1. Conference Cost Savings
Portable chargers are simply external batteries that you can purchase under $10 per battery charger on Amazon. Instead of spending over $1,000 on a single charging station, you could purchase 100 portable battery chargers with the benefit of reusing them at all your future events. I have had one of these for years and it's been working great.
Onsite, you only need to pay for one power outlet to recharge the batteries when they are returned. You can offer them for rent a small rental fee, or use a deposit of $20 so you can easily replace a lost unit, or simply offer them at no cost for return within 2 hours. Or re-sell them to your attendees directly during registration!
2. Meeting Attendee Convenience
A mobile device at a conference is an attendee's most important tool to stay organized, navigate the venue, take notes, read abstracts, find exhibitors, or network with others. Based on our event app analytics, we know that attendees use the apps anywhere from 70 – 100 times in a matter of just a few days. Locking up the device or waiting around at a charging station could impact the attendee's effectiveness to make the most out of your event. Waiting around for a battery to charge could possibly even reduce expo traffic as attendees are staying close to the charging stations. If you can give your attendees the mobility they need, they are going to have a better experience at your meeting and your vendors will appreciate the foot traffic.
3. Event Sponsorship Revenue
While sponsors can display large ads on the stationary charging stations, big prints may easily be ignored. Users with a low battery warning will look for power, not read ads. Plus, attendees may leave their phone locked in the station to go to a session while their device is charging. Using portable battery chargers could give you new opportunities for your event sponsorships. For example, you could place stickers from your sponsors directly on the external battery. Attendees renting the charger will continuously be exposed to the advertisement where-ever they go. Or simply display a QR code on the sticker and create curiosity what the code will show. You could lead users to your membership website or send them to the sponsor's page within the app.
Bonus: Tips on Saving Battery during a Convention
Share our knowledge base article with your attendees to help them make the battery last longer.