Your medical and scientific events catalyze the biggest discoveries in our century. Some of the biggest discoveries come when researchers find that one bit of information that inspires their breakthrough. We are excited to play even a small role in one of those discoveries and want to ensure your attendees find what they are looking for with our new release.
The new version of the EventPilot Scientific and Medical Meeting App ensures that your next app implementation provides an even better user experience. And who knows, perhaps the next breakthrough discovery is just waiting to be made at your conference.
"This advanced conference app helps our users get meaningful results fast. I love it!"
Jeff Galyon
IT, American Chemical Society (ACS)
EventPilot Scientific Search Engine
Your attendees can easily search for even the longest technical terms or find the right paper, even if they misspelled the author's name or missed accent marks. Searches with typos reveal all the similarly spelled terms found in your meeting program.
The Scientific Search Engine is available from the list views and includes powerful features from autocomplete suggestions to diacritic search. Learn more about the EventPilot Scientific Search Engine.
Autcomplete Suggestions
Instant Search
Diacritic Search
Associative Search
Spelling Assist
High-speed Performance
Boolean Exclusion
Prioritized Results
Learn more about the Scientific Search Engine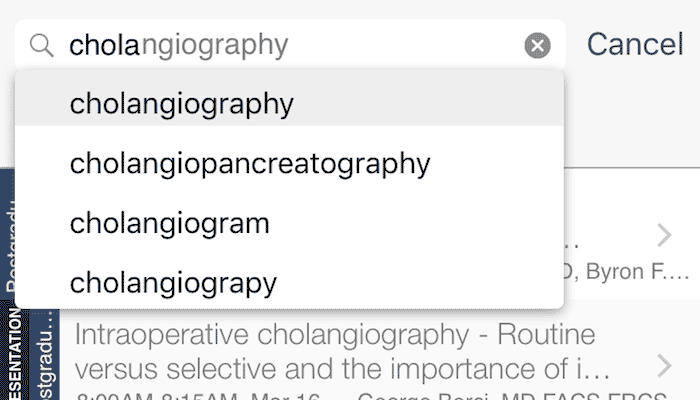 Agenda Time and Date Filters
You are only interested in seeing posters on the topics 'Proteostasis' and 'Microbes' on Tuesday afternoon? The filters in the event app now include an intuitive day and time selector in the agenda search. Even pre-filtered lists make secondary filters available to users.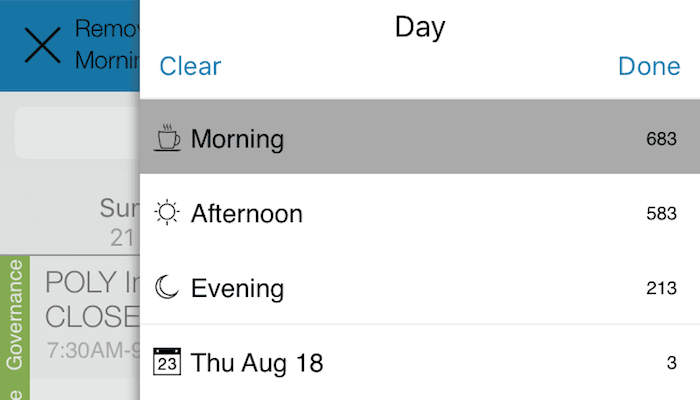 Search Engine in List Views
List view searches are upgraded to the Scientific Search Engine with autocomplete suggestions and instant search. These include speakers, exhibitors, attendees, and media items (e.g. poster or abstract list).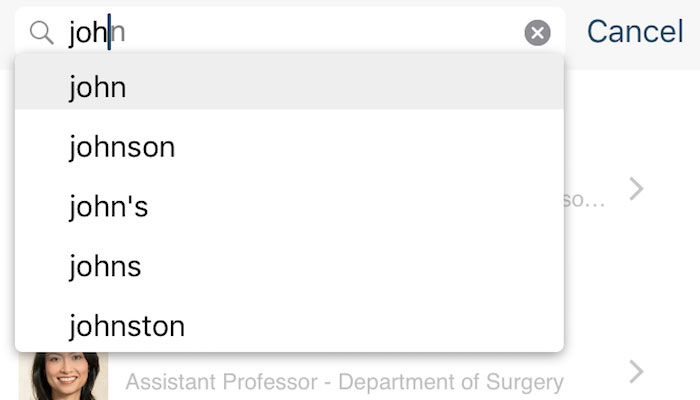 Indoor Expo Routing
Our meeting app helps your attendees navigate large expo and scientific poster halls. The indoor positioning module has been upgraded to include indoor routing. Users instantly see where they need to go and if they are heading in the right direction.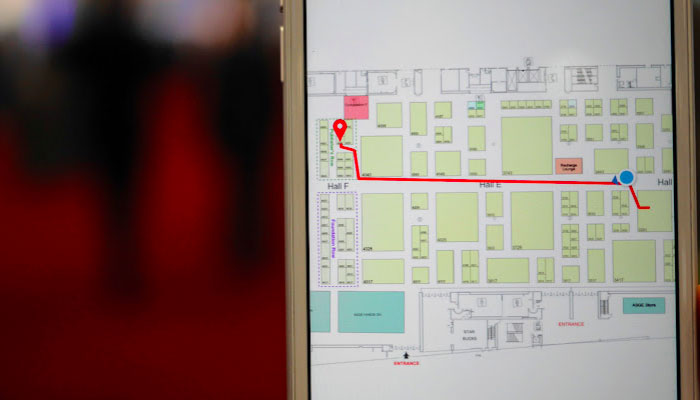 Redesigned Filter Menu
Pinpointing just the relevant sessions out of thousands of scientific presentations has never been easier. The filter menu is completely redesigned as a sliding drawer. The smart filters display result counts based on existing filter keyword selections.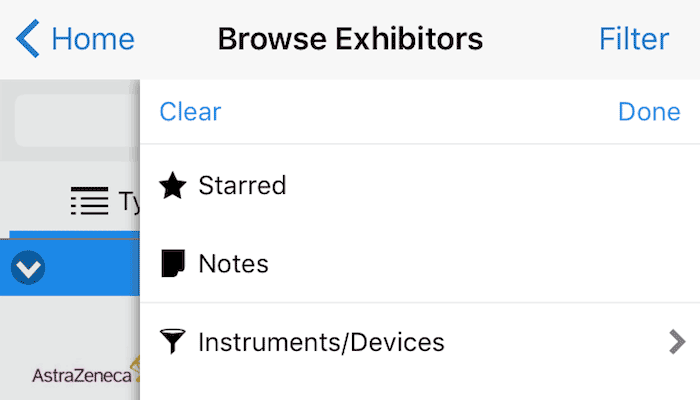 Expose Meta Tags for Easier Navigation and Increase Vendor Exposure
Enable discovery by displaying all meta tags in the event app's detail views. Any filter keyword associated to a session, speaker, exhibitor, or attendee, is integrated as an interactive button. For example, 'Products and Services' meta tags for your exhibitors are automatically included below the description area. Users are immediately exposed to the available tags and can quickly discover all the other vendors.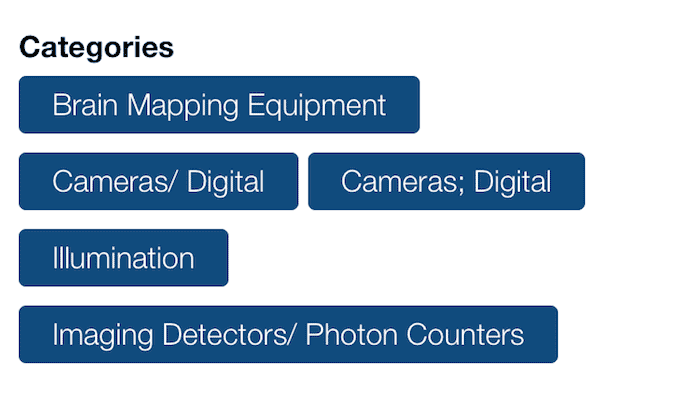 Cleanest User Interface in the Industry
Building a schedule must be easy for a meeting with thousands of presentations, long technical titles, spread over 5 days at a huge conference center. We have built EventPilot conference apps to maximize viewing area and minimize taps or clicks. The UI in this release is even cleaner than before!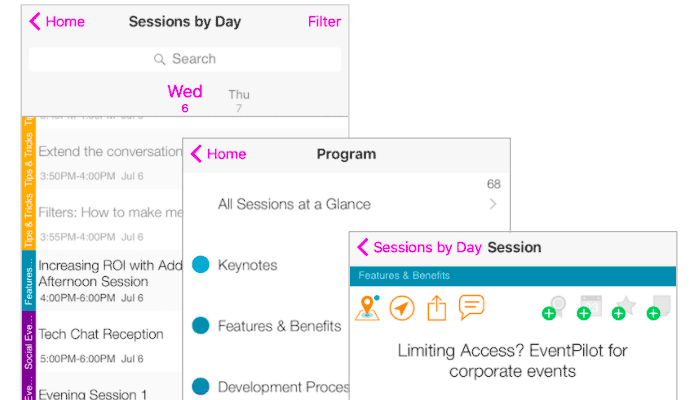 Visually Differentiate Past Sessions
Users can instantly see if a session is already past. The session title appears muted in list views. This is helpful for any searches, using the personal schedule, or reviewing session lists like curated itineraries or exhibitor events.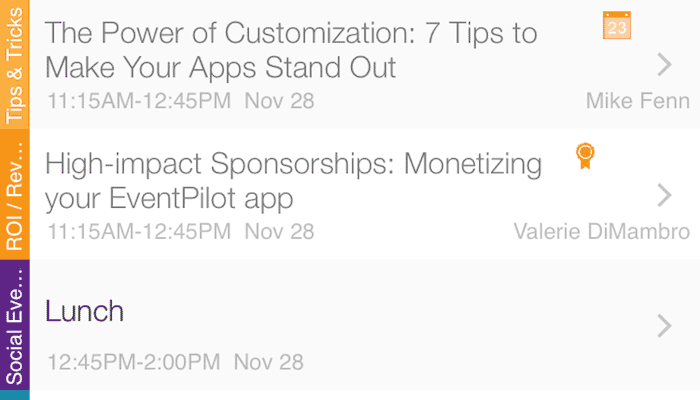 Automatic Trip Report Email
The EventPilot solution helps attendees focus on learning and we continuously work on simplifying the experience. With our new version, your attendees will automatically receive an email with all their notes and starred items. One less manual task for your attendees.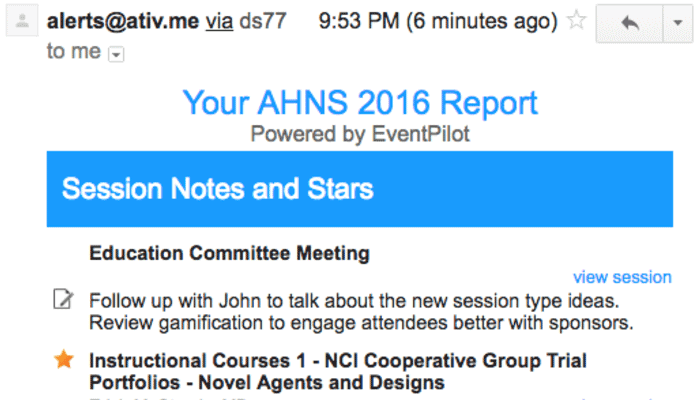 Give Users More Data Control
New settings features give your attendees more control over their cellular data use. We also guide users to manage event app notifications in the device settings.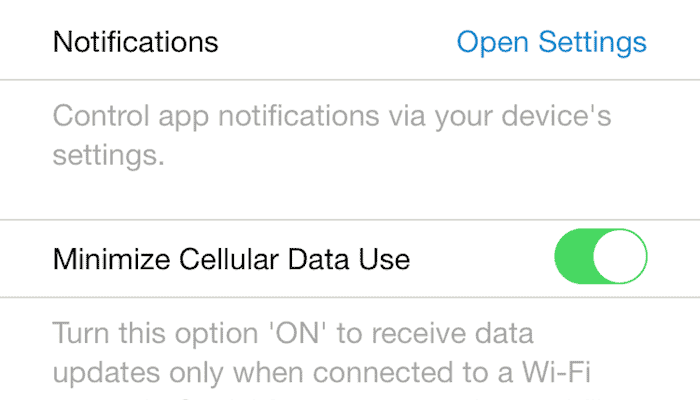 Email Notification for Unread Messages
If you are using the Peer Finder module, attendees receive an email if they have unread messages. This is especially important for attendees who have not installed the app. They will now know that someone is trying to get in touch and are guided to install the app.
Scientific Online Meeting Planner Update
We have recently already posted about the new features in the Online Meeting Planner. The improved UI, scientific search engine, and additional export options make the Online Planner an ideal desktop companion to the app. The Online Planner syncs seamlessly with the app. Learn more about the recent Online Meeting Planner update.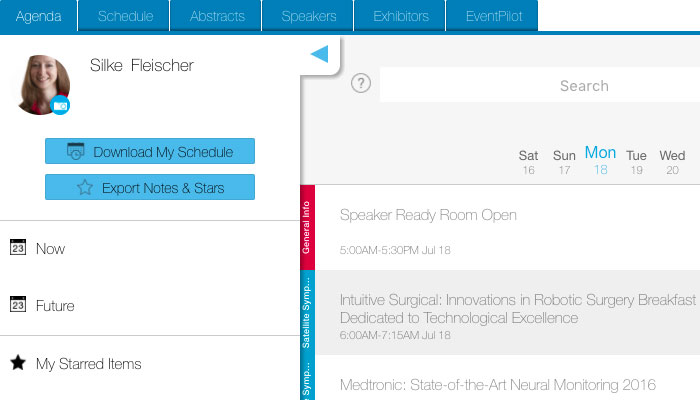 Availability
All features listed are included in your next implementation / purchased modules. If you have purchased the Online Planner, you are already automatically upgraded to the current version. Enterprise multi-event apps will be upgraded based on your upcoming event schedule.
Do you have new feature ideas or want to see this release in action? Please contact your project manager at ATIV.