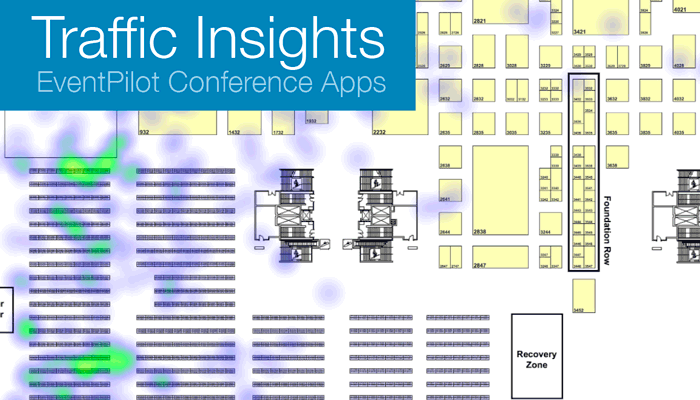 In time for the fall conference season, we have a new version of EventPilot ready for you! New event app features will give you unprecedented near real-time insights into attendee behavior and satisfaction level. The team has pushed the boundaries of technology yet again and has developed a highly advanced expo traffic heat map that is affordable and seamless to implement. Further improvements around social sharing, Scientific Search Engine fine-tuning, and media item access control round off this cutting edge new release.
"The traffic data is invaluable – especially the peak times. I can share this with our exhibitors to ensure they are fully staffed during those hours."
Diedra Crawford
Industry Sales and Operations Director, Digestive Disease Week
Make Data Driven Decisions with Traffic Insights and Heat Maps
What are the peak times in your expo hall and where do people go? How many unique visitors came? How long did they stay and how often did they come back? EventPilot can answer these questions. Our Indoor Navigation System now delivers key metrics and a traffic heat map around your expo and poster halls. The data can help you create a better experience for your attendees and exhibitors.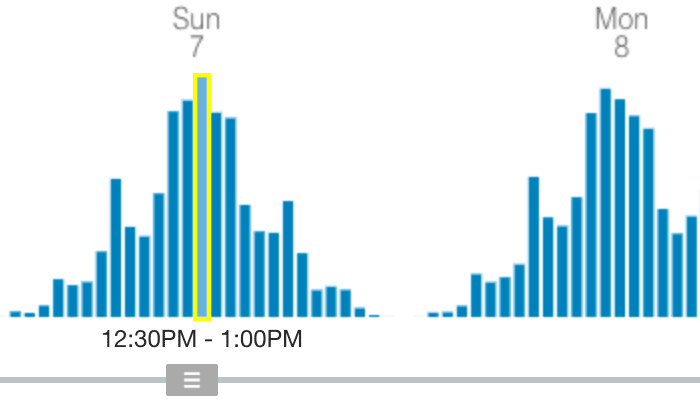 Monitor Session Satisfaction in Real Time
The smart animated design of the meeting app's new rating system encourages users to reflect their satisfaction level during or shortly after the session. At a recent event, about 80% of the nearly 3,000 sessions and presentations were rated by app users. Meeting planners can access the reports 24/7 and alert staff to gather more information if a session receives below average results. Imagine that you could catch low ratings at the beginning of a 4 hour paid workshop with time to intervene before the session is over!
Free with a multi-year commitment.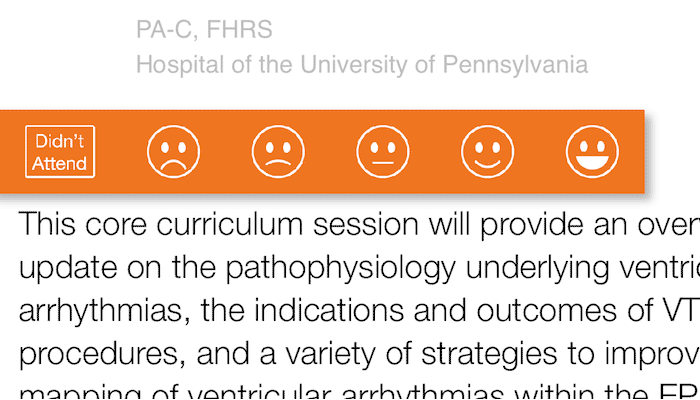 Increase Social Engagement
Each new EventPilot home screen now includes the Activity Feed that blends Twitter with in-app session comments, and event photos into one coherent feed. To provide context, session comments link right back to the session detail view where users can follow along in the in-app discussion. Your attendees don't need to have a social media account, because any logged-in user can easily participate in photo sharing and session commenting. Attendees can upload photos directly via your event app. Even the new session rating prompts are aligned with the attractive Activity Feed to help boost submission of any missing ratings.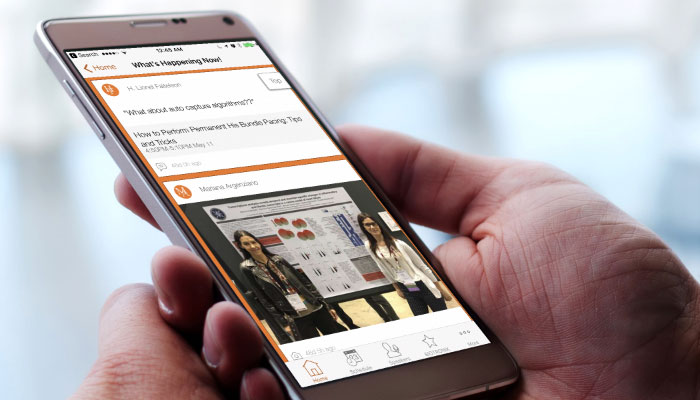 Train Your Meeting App to Know Your Jargon
Import your own synonym list to train your event app's Scientific Search Engine. This feature enables EventPilot conference apps and the Scientific Online Itinerary Planner to understand your specific industry terminology so that your attendees find the 'syringe' in your haystack.
Use it for:
Medical Procedures

Whipple = Pancreatoduodenectomy

Chemical Names

H2O = Water

Regional Spelling Differences

Celiac = Coeliac

Pharmaceuticals

Motrin = Ibuprofen
Free with a multi-year commitment.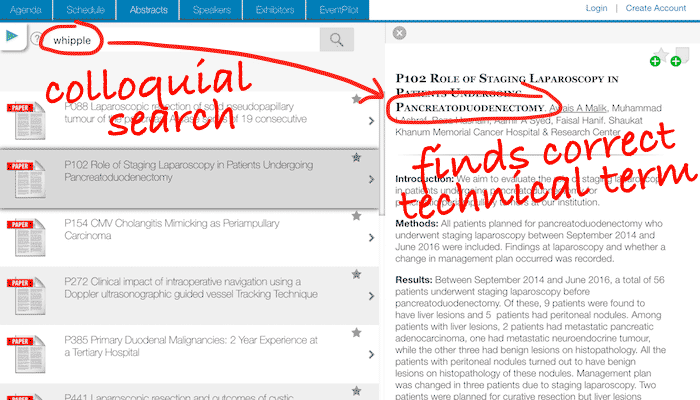 Additional Enhancements
Control Timed Access to any Media Item
In addition to setting an embargo for offline abstracts, you can choose at what date and time other media items can be accessed by attendees in your conference app. This includes PDF handouts, links to scientific ePosters, as well as PowerPoint presentations in EventPilot's mobile optimized slide viewer with note taking.
Pin Drop Link from Custom Views
Link to a mapped location from your general information so you could show a pin drop for the lost and found location. Your Client Relationship Manager can assist you.
Moderated Q&A Archive Option
If you are using the Moderated Q&A Module, you can now export all questions and answers as a single archive for further analysis.
Additional UI enhancements and updates are also included.
Please contact your Client Relationship Manager if you have additional questions about any of the new features.