The best scientific meeting app is now even betterIntroducing: EventPilot Scientific Search Engine
"This advanced conference app helps our users get meaningful results fast. I love it!"
Jeff Galyon
IT, American Chemical Society (ACS)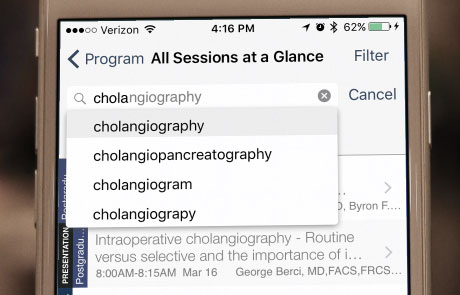 "Medical meetings are highly specialized and need event technology that helps attendees find scientific terms - just try searching for cholangiopancreatography on a mobile device! It's effortless and quick in EventPilot conference apps. The search engine is fantastic and is one more reason EventPilot is the best meeting app for medical and scientific conferences."
Jason Levine
Vice President, BSC Management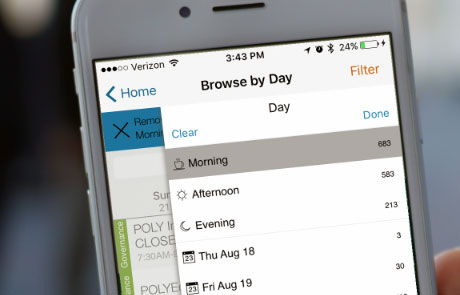 "A powerful search engine for technical content is critical for our scientific meetings, because the key to using an event app is finding information. EventPilot not only delivers on that, but it exceeds our expectations in terms of performance, quality, and attention to detail. This advanced conference app helps our users get meaningful results fast. I love it!"
Jeff Galyon
IT, American Chemical Society (ACS)
The smartest search in the industry can even learn your jargon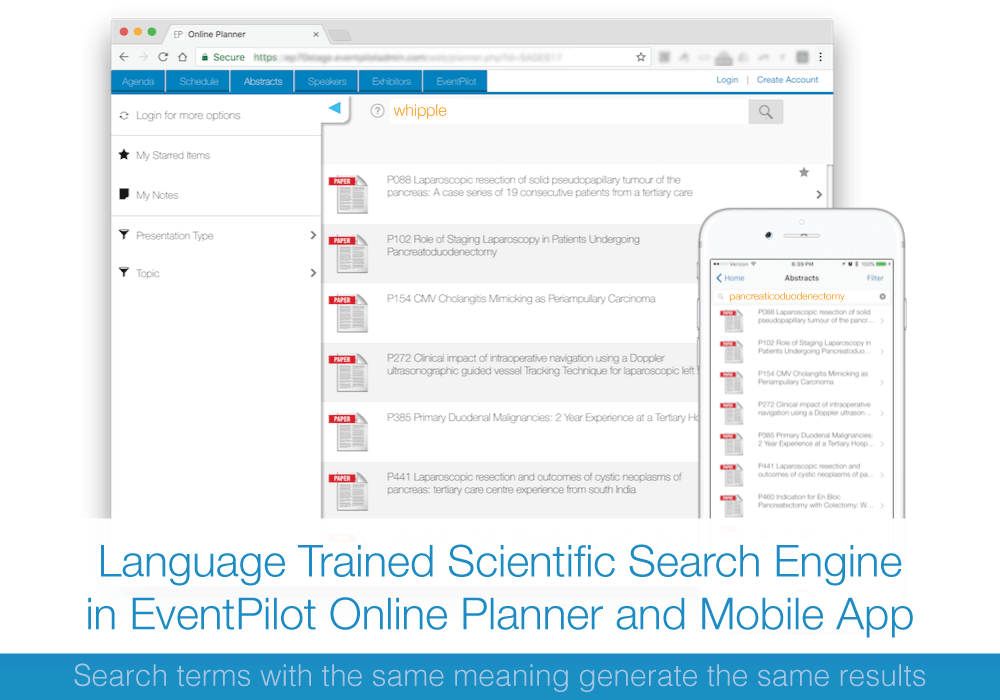 Medical Procedures
whipple = Pancreaticoduodenectomy
Chemical Names
H2O = Water
Drugs and Brands
Motrin = Ibuprofen
Regional Variations
Coeliac = Celiac
Why Do You Need a Scientific Search Engine?
Attendees Love EventPilot Scientific Meeting Apps
What Makes the EventPilot Scientific Search Engine Unique?
EventPilot is designed for the largest medical and scientific programs with over 10,000 sessions and presentations, over 50,000 authors, and thousands of exhibitors. Receiving relevant search results quickly from these massive data sets is critical for a successful attendee experience. Easy access to the latest scientific research could be the key to the next discovery of the century. The EventPilot Scientific Search Engine helps meeting planners improve access to the event content. It increases the success rate of finding relevant results up to 44%!
High-speed offline performance

Autocomplete suggestions

Diacritic search

Associative search
Synonym Search

Analogue Search

Boolean exclusion

Spell Correction & Variations
Global & content specific

Smart filter integration

Prioritized results

Indoor expo map search
Request a free demo of the EventPilot Scientific Search Engine
Schedule a private demo with us to see how a true scientific search engine makes a difference to finding content in your event program.