Foster attendee interaction through mobile app technology
Not everyone speaks up in front of thousands of attendees to ask a question. EventPilot's Moderated Questions & Answers Module empowers all your attendees to contribute. Use the event app to increase value for your attendees and offer in-app question submission to panels or moderators. Answers can be published directly in the conference app at any time.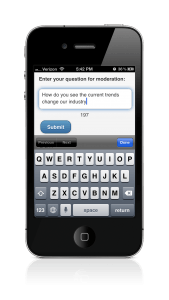 Submit Questions
Choose particular sessions for which you offer question submission. From the session detail view in the event app, attendees simply submit questions anonymously for this session.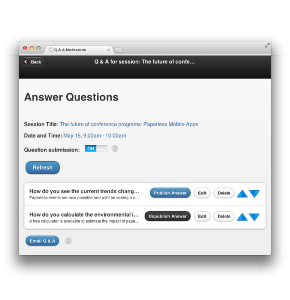 Moderate and Publish
Moderators log in to the EventPilot conference app Q&A website to turn on/off question submission, sort the question order if displayed to panelists, and publish answers for questions.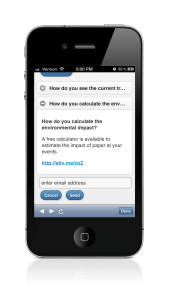 View Expert Answers
From the Q&A section in the event app's session detail view, attendees can view the answers your experts published. For further retention, attendees can email the answers of a session.
The conference app can help you create a safe environment for your attendees where questions can even be submitted asynchronously before the session has started or after the session has ended. Your moderators have the power to open and close question submission. They can choose, which questions get answered and published back into the app.
As moderator it's fascinating to see how the ability to submit ?s by the smartphone app has changed dynamic of discussion. #sages2015
Tweet
from Andrew Wright
SAGES 2015 Moderator
Want to learn more?
If you are interested in your own professional EventPilot conference app for your next event, please contact us using the form below.