Location-Relevant Notifications with iBeacon and GPS Technology
Before, during, and after your event, you can send alert messages to your attendees that can appear on the device screen even if the app is running in the background. Inform attendees about important information, critical program changes, or to display sponsor messages. Pre-schedule the notifications to be active during a specific period of time and combine the trigger with a specific location at your venue.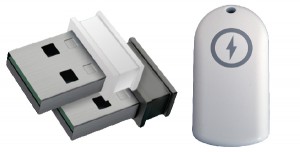 Indoor Proximity Awareness
iBeacon technology is built directly into the EventPilot meeting app. Simply place beacons in strategic locations to trigger a push notification on iOS devices. When an attendee is in close proximity to the beacon, the app recognizes the location and displays the notification. iBeacons are ideal for triggering notifications indoors where WiFi access may not be available and GPS is too inaccurate.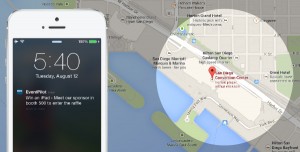 Outdoor Location Awareness
Display relevant messages based on a map location such as the venue address, the meeting city, or the airport. When attendees arrive in the address perimeter, your message is triggered. Just like beacons, you can link to a website or a page within the app. GPS-based alerts are ideal for large area range notifications where indoor accuracy is not critical.
Increase Engagement and Revenue
Sell location-relevant messages to your vendors to increase sponsorship revenue and better target attendees, or, integrate location-based notification with gamification to increase engagement. Contact us to learn more.
Example Proximity / Location Notifications
Registration Desk
Use a beacon to trigger messages about special events, last minute workshop registration, support contact, etc.
Sponsor Message
Display a paid message in proximity of the sponsor's booth (iBeacon) or when users arrive at the conference center (GPS)
Special Venues
Remind users who are not at the venue that they still have time to join your exciting evening event
Important Info
Place a beacon at the exit to the buses that displays a message to open the bus schedule in the app
Expo Entrance
Show a message to link to expo hours or display the sponsor list with a beacon at the expo entrance
Airport
Ask attendees to complete the conference survey when they get to the airport (GPS)
Order Your Beacon Devices from Radius Networks
We recommend purchasing your beacons from Radius Networks and here is why:
Excellent customer service and responsiveness
USB beacons with strong signals and no need for batteries
Full control with programmable beacons including Minor number
iBeacons that meet Apple performance standards
Professional services for large installations
Purchase your iBeacons from Radius Networks
"The EventPilot conference app is a leading example of how iBeacon technology can be used to enhance attendee engagement at events and meetings"
David Helms, Chief Product Officer at Radius Networks Inc.
Contact us today to learn more about the EventPilot Conference App.