Professional Private Networking at Your Events
PeerFinder networking tool creates a rich networking experience to connect with experts, authors, or local professionals. Pre-populated content helps attendees find just the right contacts and maximize their networking efforts.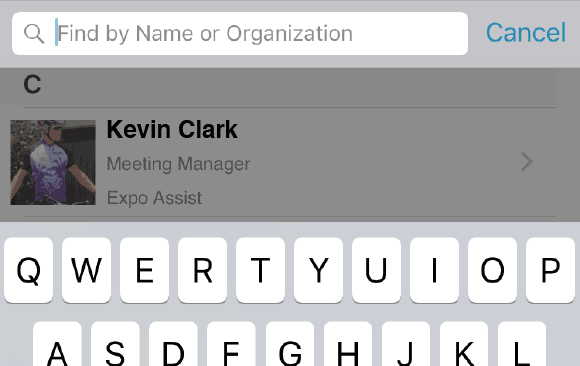 See who is there
Upon installing the app, immediately see who else has registered and search within the attendee list.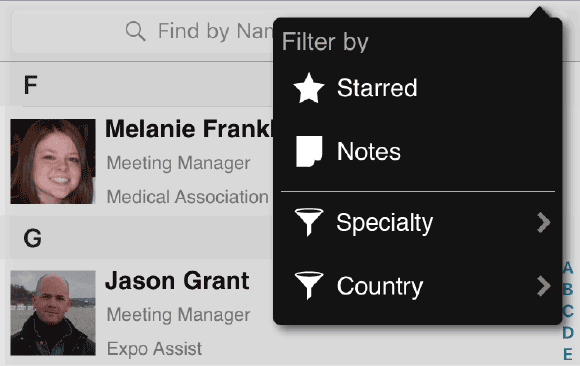 Find new connections
Filter or search to find new professional connections based on area of expertise, research speciality, location, etc.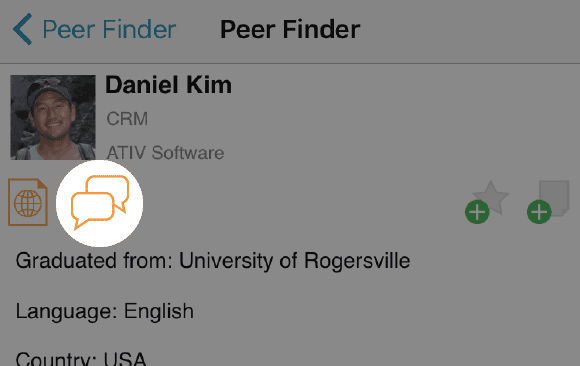 Send a message
Use the one-on-one private messaging to get in touch, ask questions, or schedule to meet face-to-face.
Make your meetings more valuable. Boost interpersonal connections.
Networking is one of the main reasons for attending a professional meeting.
PeerFinder tool in your event app makes it easy to find the right connections.

Control List Access
Permit only logged in users to view the attendee list and initiate conversations via the event app. Exhibitors and vendors may still use the meeting app to view the event program but will not be able to view the list of attendees.

Prep Common Ground
Facilitate interpersonal connections by including basic background information. Attendees can easily find peers based on area of expertise, fields of research, or connect with other professionals from their own countries.

Engage with Speakers
The PeerFinder network enables direct communication with speakers and authors. This is critical for scientific meetings where short poster presentations require an easier way to contact presenters for follow up questions on the research topic.

Boost Career Fairs
Ask job seekers to submit their LinkedIn URL during registration and keywords to populate the event app. Companies can filter the candidates, preview the LinkedIn resumes, and get in touch to schedule interviews.
PeerFinder Feature List
Professional Networking
Search the attendee list

Filter by keywords

Take notes on attendees

Bookmark or favorite peers
Private Communication
Message privately one-on-one

Communicate directly with Speakers and Authors

Know when new messages are received

Block users you do not want to connect with
Configuration Options
Require authentication to access

Update 24/7 or edit directly in the CMS

Include a variety of links e.g. LinkedIn