Turn your ScholarOne abstracts into a complete event
Offer your attendees a professional, scientific conference experience
EventPilot® professional meeting technology
Give your attendees an app with offline access to schedules, speaker profiles, presentations, and searchable abstracts. The tight integration with ScholarOne makes it easy to turn your abstracts into a digital format and eliminate the need for printed programs. With a consistent 4.5+ star attendee rating, top medical and scientific meetings select the EventPilot meeting platform.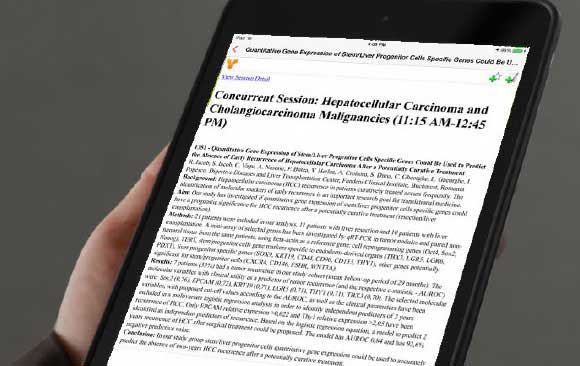 Meet the meeting tools specifically designed for scientific and medical meetings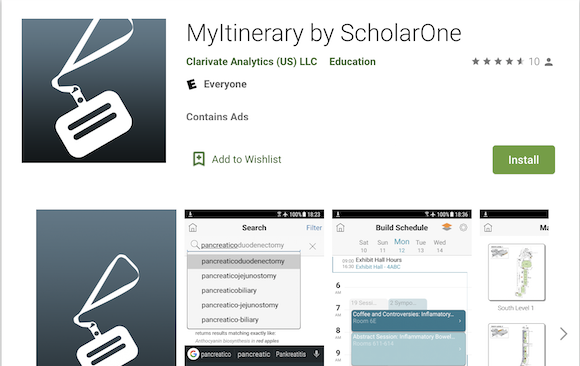 Create an app easily
As a ScholarOne client, the native event app, MyItinerary, is already available in the Apple store and on Google Play for Android. Attendees simply open MyItinerary and download your branded event program.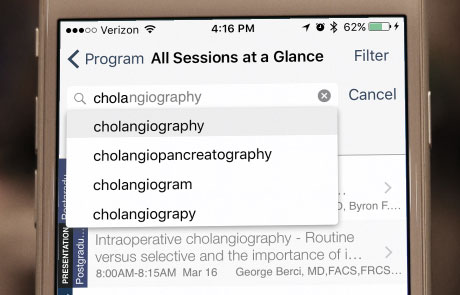 Search powerfully
The unique scientific search engine is designed specifically for your medical and scientific conference tools. It's lightning-fast, gives search suggestions, can be trained, and offers analytics.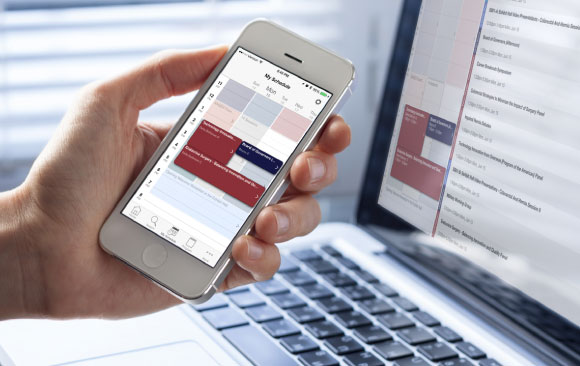 Plan online
Beyond the ScholarOne app, provide your attendees with a desktop planner. Your participants can build and access their personal schedule and even attend your event from a computer or their mobile device.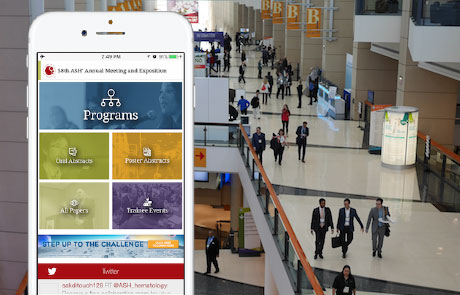 Impress your attendees
Navigation is designed to enable your attendees to choose between adding complete poster sessions or individual poster presentations. Send live notifications to ensure attendees receive last-minute schedule changes.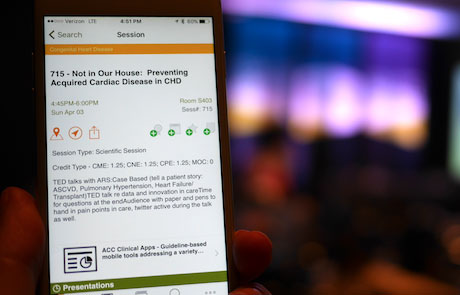 Facilitate notes
The EventPilot meeting tools keep your attendees' notes organized with a complete report of their key learnings. The subsequent report includes all notes and star-rated items such as sessions, presentation slides, speakers, exhibitors, or new contacts.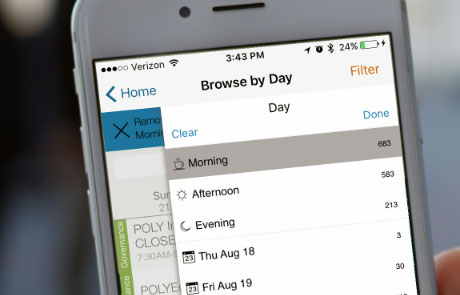 Customize your filters
Event schedule tools allow participants to quickly filter for just the content, topics, specialties, days, time, or location they want. Custom filters can be also applied using keywords so attendees can apply multiple keywords from multiple filters.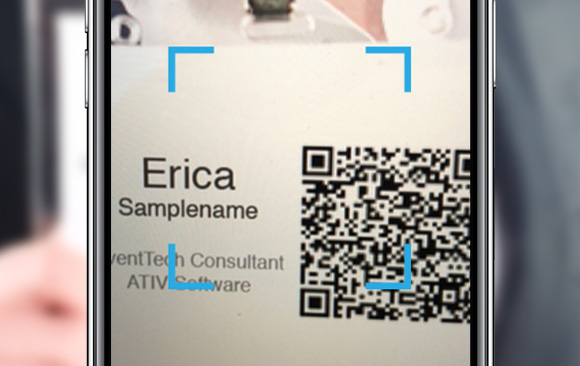 Delight your exhibitors
Allow your exhibitors to use a free "BadgeScanner™ lead retrieval" to use QR codes on badges to gather targeted leads from attendees interested in your exhibitors. It works offline without needing WiFi.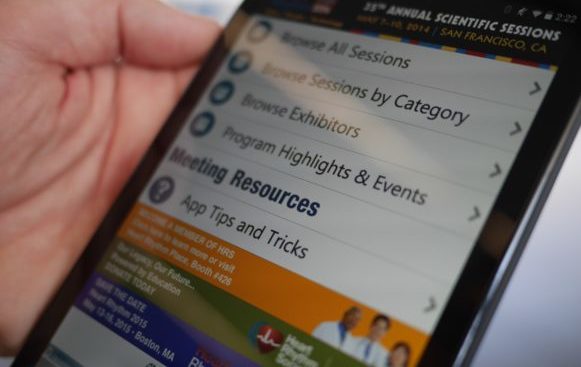 Generate revenue
The EventPilot meeting platform offers the capability to implement a variety of sponsorship options that may permit you to generate revenue in compliance with ACCME requirements.
Eliminate costs
Go paperless by integrating all your ScholarOne abstracts directly into the ScholarOne app and online planner. Provide your content in the context of the session detail view. Calculate your cost savings.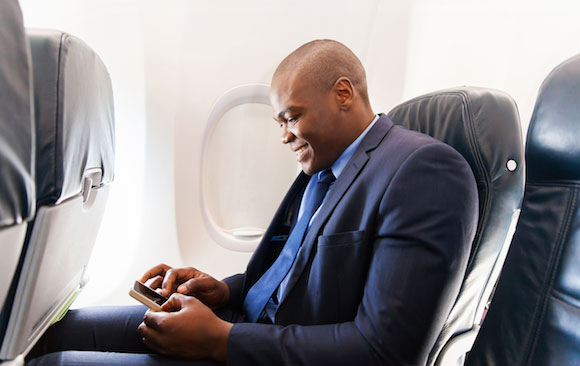 Why WiFi free?
For onsite events, the EventPilot conference app is a native meeting app for iPhone, iPad, and Android. As a result, your attendees can use many of your interactive mobile program features completely offline. For example, the meeting app can be used during the flight to your event or at the conference where WiFi may be limited, over-burdened, or unavailable.
Offline browsing, scheduling, searching

Offline notes, messages, reminders

Offline interactive maps and much more
NOTE: The EventPilot conference app intelligently backs-up and updates whenever WiFi becomes available. Any streaming functionality for virtual events or hybrid meetings does require a WiFi connection.
Expand with your needs
Here are a few of the features available to you through ScholarOne for an additional cost
Connect virtually
When presenters, attendees, and exhibitors are unable to participate in your onsite meeting, convert your event into live online sessions for desktop and mobile access.
Include pre-recorded sessions
Enable speakers to upload their own presentation recordings and display those directly from sessions. Easy navigation for attendees exactly where they expect it.
Reduce A/V costs for hybrid events
Reduce in-room support costs at your onsite event by timing pre-recorded presentations for your remote audience. Viewing becomes available when the live session starts.
Engage attendees
Foster moderated discussions, in-context with a presentation on the latest ScholarOne abstract. Or use the EventPilot moderated Q&A module to offer question submission to panels or moderators.
Send location alerts
EventPilot Location Alerts permit notifications to be triggered by timing or when an attendee is in a particular location. Participants can be informed about critical program changes or shown sponsor messages.
Provide navigation
RouteInside® wayfinder guides your visitors step-by-step from room-to-room, between floors and buildings. The technology is designed to work with Google Maps and Apple Maps for seamless navigation.
Measure audience interest
Apply specific surveys to different workshop types or adapt to presentations, including those with more than one speaker. Chose a survey service or integrate with your existing surveys.
Personalize your content
Targeted specific groups based on user-types assigned during registration with custom information and banners provided within the app. Consider highlighting information for speakers, or advertising to exhibitors.
Increase awareness
Offer expo passport-style games or scavenger hunts with ScanHunt® gamification. Use it to increase session attendance, educate about new initiatives, or drive foot traffic to participate exhibitors.
Do you want to offer the ScholarOne app and online planner for your next conference?
Complete the contact form below to receive more information about setting up your own scientific meeting platform.
* indicates a required field
Reload